Lady Bei-Shanying Musujika (北闪映 亩秀鹿)  is a Japanese-Chinese antlered moose sorceress speaking with a Chinese-Japanese accent resembles to Bullwinkle J. Moose appeared in the movie Rocky and Bullwinkle: The New Adventures Beginning. She is living from China/Japan and do magic and sorcery. She is the sidekick of the flying squirrel witch Ming-Huaxing. She is also able to bewitches Bullwinkle. Her magic was purple, pink and mauve with sparkles.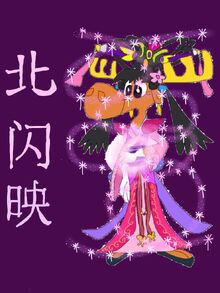 Appearances
Bei-Shanying has brown-ish orange fur, Asian eyes, blue eyelashes, a black Chinese hairstyle with long pigtails, a small furry tail and long gold yellow antlers, she wears white gloves, a purple, pink and mauve sorceress themed hanfu/kimono gown, gold earrings, a gold, sliver, purple, pink, jade and orange headpiece, two pink sakura flowers and teal traditional Chinese shoes.
Powers and Abilities
Spell Casting
Immortality
Resurrection
Symbol Magic
Magic Martial Arts
Healing Factor
Summoning
Transformation
Telekinesis
Teleportation
Magic Manipulation
Potion Making
Community content is available under
CC-BY-SA
unless otherwise noted.